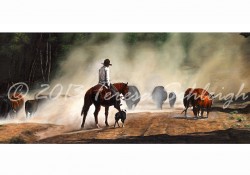 "Three Aces"
Original oil by Teresa Schleigh
"A good hand, a young well broke horse and ole Ring, this is as good as it gets, and this job is as good as done."
 Scene is the summer range on the Rock Creek Ranch, Klamath Falls,
Oregon.
Limited edition of 100, s/n  12" x 36" Giclee' prints
On paper……$ 800
Stretched on canvas……$ 1240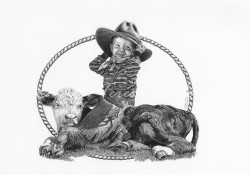 "The Bull Rider"
Original pencil drawing by Teresa Schleigh
"It is pure quill, that moment in time when a fella realizes he is the king of the cowboys or quite possibly the whole entire world."
Drawing is of Clint Schleigh, artist's then two year old son, sitting
on one of his Grandmother's calves.  Clint wasn't looking at the
camera because he had his eye on the mama cow, who wasn't sure
she liked what was going on.
 Limited edition of 100, 11" x 14" s/n lithographs……$ 580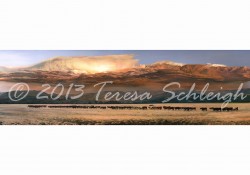 "The Fruit of Our Labor"
Original oil by Teresa Schleigh
"Few things remain constant in today's fast paced world.  The ability of the cowman to utilize range lands and produce food for our nation is one of those constants.  Often done the way it was hundreds of years ago, it is a part of our west that still remains wild."
Scene is gathering fat steers to ship at the Cascade Ranch, Lake Creek,
Oregon As calves by their mother's side, these steers summered on the
mountains behind them, making the same trip as cattle have done in this
valley for many generations.
 Framed original oil 2.5 feet by 11 feet……$ 32,000
 Limited edition of 100, s/n Giclee prints on paper or stretched on
canvas, priced according to size requested.

Updating…